Music Instruction in Williamsburg, Brooklyn

Take private music lessons in a variety of instruments: singing, guitar, piano, drums, violin, cello, bass, ukulele, clarinet, saxophone, flute, trumpet, trombone, French horn, and baritone horn.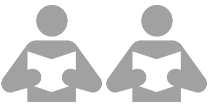 Offered for a variety of ages and instruments, group classes are for those who learn better as a team. Find out what class is right for you.

Take lessons from seasoned performers who have degrees in their instruments. They teach complete beginners through extremely advanced students.
Start Playing a new Instrument
Whether you are an adult that's brand new to lessons or looking to brush up your skills, all are welcome. Our teachers tailor private instruction to meet your specific needs. We also have adult guitar classes.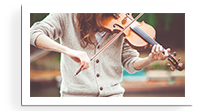 Learn more about evaluating music studios. View a studio comparison checklist to get started.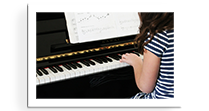 Select from a variety of instruments so multiple family members can take lessons in the same place. Contact us for info on our special family discount.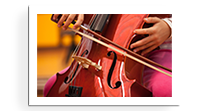 We are here to help. Find out what you need to know in our article, How to get the most out of music lessons.

Isaiah Negron, Voice Student
After 2 years as a voice student at Williamsburg Music Studio, Isaiah Negron was cast as Young Simba in Disney's legendary Broadway musical The Lion King.
"Although we're not from the Williamsburg area, the hour drive from home is so worth it. Since then, he's learned so much and sounds wonderful. We never imagined he would get this far and sing so beautifully. Thank's to Melanie for her support!"-Lisa Negron, parent

Una Chambard, Clarinet Student
Congratulations to Una Chambard, who was admitted both Laguardia School of Music & Art and Performing Arts as well as Frank Sinatra School of the Arts. She enrolled at Laguardia in September.
What Students and Parents are Saying
We are so appreciative of all you have done. Thank you so much! It is truly a blessing to have you teach our son and it was awesome to see our little guy play "Old MacDonald." Richard and Antoinette Cabo
I am amazed at the progress my daughter has made in only a few months! Her instructor is fun and engaging and most importantly, patient. I am so excited to attend the recital in December! Maria Gargano
WMS is that perfect mix of rigor and flexibility. Their teachers are knowledgeable and approachable. My daughter is growing into her instrument with each lesson.
Dan Trujillo
I've had so much fun! I had taken guitar classes in the past but never stuck with them and forgot everything. Thanks to the teacher at Williamsburg Music Studio, I was playing right away. He makes group lessons really fun and comfortable. Plus, he is an experienced teacher who instantly provides feedback and corrects students. There really is a difference between this class and others I've taken elsewhere. Paulina
I like my teacher because she picks good songs to play. But not easy songs. Francesco
Why choose us over in-home lessons?
A music school offers a focused environment free from the distractions of home. Through interactions with fellow students, exposure to different instruments, and fun, low-pressure performance opportunities our students get a broader and more meaningful experience.