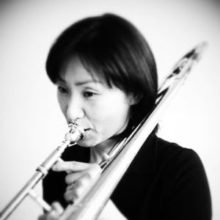 Hitomi Yataka
Trombone
Growing up in the school band culture of Japan, Hitomi started playing piano and euphonium at an early age.  Upon majoring in music at Indiana University, she was inspired by David Baker, the famous jazz educator, to take up the study of trombone.   She completed her masters at De Paul University in Chicago. Among her professional performances are the New World Symphony, Fulcrum Point New Music Project, Jack Daniel's Original Silver Cornet Band, and the Broadway production of "War Horse" at Lincoln Theatre Center. Recently, she founded the "MADE IN SPAIN BRASS BAND" where she arranges and leads the band.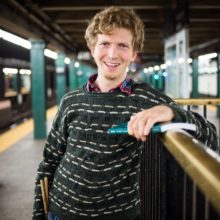 Nicki Adams
Piano
Nicki's passion for teaching piano reflects his joy for performing, composing and song-writing. He received his bachelors degree in piano performance on a full-scholarship at the Oberlin Conservatory. Since moving to New York, Nicki has collaborated with fellow performers at venues including Jazz at Kitano, Jazz at the Lincoln Center, the Knitting Factory, ShapeShifter Lab, the Sedona Jazz Festival and the Hopscotch festival. He is an dance accompanist at Mark Morris, Martha Graham and Marymount Manhattan, a vocal accompanist for Marcelino Feliciano and arranges for the future-folk band, The Oh Ones while leading his own ensemble, GADADU.
Jon Crowley
Trumpet
Jon's fascination with the trumpet started early. Starting lessons at age six, he writes, "I rested the trumpet bell on my knee because I couldn't lift it for the first few months." He played in classical and jazz bands throughout middle school and high school, competing in regional competitions. Jon majored in music at Muhlenberg College, where he also studied education. After graduation, Jon moved to NYC and earned his Masters degree in Jazz Performance and Composition from New York University. Jon has been part of the teaching faculty at NYU as well as Lincoln Center's Webop jazz program for kids, and we are happy that he brings his love of music and teaching to our studio.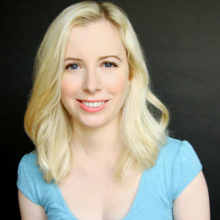 Melanie Crispin
Voice/Piano
Melanie is a musician with over 10 years of professional experience and has a passion for both education and performance.  She holds a B.A. in Music Education from Western Illinois University and an M.M. in Opera/Music Theater Performance from Southern Illinois University.  Her performing credits range from off-Broadway theater to choral work.  After teaching in multiple music studios in New Jersey, Connecticut, and New York, she is excited to begin this new adventure as a teacher and co-director at WMS.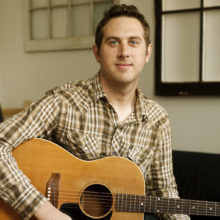 Scott Kacenga
Guitar/Bass/Ukulele
Scott Kacenga, co-director at WMS, displays a variety of talents as a teacher, performer, and composer. Scott began taking guitar lessons as a young teenager.His interest in jazz guitar evolved into formal study at Skidmore College, and then graduate studies at New York University. Scott left NYU with a Masters in Jazz Guitar and found his calling teaching and performing, and is excited to bring his knowledge and experience to WMS.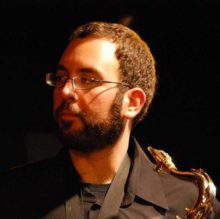 Michael Eaton
Saxophone/Flute/Clarinet
Michael Eaton is a Brooklyn-based performer, composer, and educator, teaches saxophone, flute, and clarinet.  Michael earned a degree in jazz studies from the Jacobs School of Music at Indiana University-Bloomington, and he has studied with top jazz educators like David Baker, David Liebman, and James Moody, and classical saxophone with Eugene Rousseau. A patient, analytical, and insightful teacher, he focuses on imparting solid fundamentals while working with each student to achieve their personal musical goals and direction. You can hear Michael perform his original music in venues across NYC, and as a sideman he has shared the stage with internationally known artists Ingrid Jensen, Jim Snidero, Fred Hersch, and The Temptations.
Cameron West
French Horn
Cameron holds a bachelor of music and a B.A. in psychology from Bard College. While in school, he toured both China and Europe with the conservatory orchestra. As a member of the Hudson Valley Brass Quintet, he travelled to South Africa for the Stellenbosch International Chamber Music Festival where the group performed and mentored. As well as having taught privately for over 5 years, he has led masterclasses at public schools, after-school programs, and juvenile detention centers. His has recorded horn for many bands and songwriters, and has performed with both David Byrne and Natalie Merchant.
Sarah Mullins
Drums and Percussion
Sarah Mullins is a Canadian-born percussionist, drummer, and music educator based in NYC. She plays drums and sings in rock band for baby classes, and has been a member of Gamelan Dharma Swara since 2010. Sarah earned a Masters in Percussion Performance from City University of New York, Queens College, and teaches private lesson in drums and percussion to students as young as 3, and up to any age. She performs newly composed classical music, orchestral, improvisation, rock, pop, and Balinese gamelan. Sarah performs regularly as a percussionist with Periapsis Music and Dance, and has performed with the Glenn Branca Ensemble, Talujon Percussion, and the Toronto Symphony Orchestra.
Julia Chen
Piano
Raised in Brooklyn, New York, Julia Chen began studying both jazz and classical piano at an early age. She holds a Bachelor of Music degree in Jazz Piano Performance and a Bachelor of Arts degree in Psychology from Oberlin College and Conservatory in Ohio. Her previous teachers include Marco Benevento, Roberta Piket, Billy Hart, and Dan Wall. She has led, composed, and arranged for groups in New York and Oberlin, performing at venues including the Cutting Room in NYC and the Kennedy Center in Washington D.C. Julia has nine years of experience teaching piano lessons in NYC, through the Oberlin Conservatory and at the Encore/Coda Music Camp. She encourages her students to learn music in multiple genres, and to bring in songs or pieces of their own choosing when possible. During lessons she emphasizes improvisation, basic theory knowledge, and ear training. Above all, she attempts to give students music that challenges and excites them, to help students find a connection to music both within and outside of their lessons.
Natalie Oliveri
Piano/Voice
Natalie Oliveri began exploring and creating music through piano at age eight. In addition to teaching voice and piano at WMS, she is a professional Soul singer-songwriter and recording artist. She studied composition piano and classical voice at an early age at Sherwood Conservatory of Music, and received her undergraduate degree in Vocal Performance and Music Business Management from Columbia College Chicago.  Natalie released her first EP titled "Eclectic Soul" which became distributed by River City Music Co. in Japan. Her compositions have been featured in the Latino Film Festival, Oxygen Network, BBC Player documentary, BET and an award winning web series titled "12 Steps to Recovery".  Before moving to New York, she lived in London for 3 years working as a private voice and piano teacher at London School of Arts, Cherry Pie Music and taught Songwriting workshops for Song Academy UK. She currently resides in Brooklyn, working as a professional musician, performer, songwriter & music educator.
Hannah Selin
Violin
Composer, musician and educator Hannah Selin has appeared at venues throughout New York City including Carnegie Hall, Roulette, and Le Poisson Rouge. Her compositions merge acoustic instruments with electronic sounds, field recordings and recorded interviews to imagine new and unlikely sound-spaces. Hannah has studied composition with Wang Jie, Per Bloland and Missy Mazzoli, viola with Karen Ritscher, Robert Vernon and C.J. Chang, and voice with Fay Victor. She performs frequently throughout New York City with ensembles including the AEON Ensemble, Ensemble Mise-En, and the Delphi Chamber Orchestra as well as her own group, GADADU. After receiving the 2015 Miriam Gideon Award for excellence in the study of musical composition, Hannah was selected as Composer-In-Residence with the Brooklyn College Orchestra in the spring of 2016. In the fall of 2016, GADADU was awarded residencies at Avaloch Farm Music Institute and the Aaron Copland School of Music at Queens College. Hannah Selin was a finalist in the 2016 Verdant Vibes Call for Scores.
As a music educator, Hannah strives to provide her students with a lasting musical foundation that will assist them in whichever musical path they take. She has over five years of experience teaching private and group classes, lessons and workshops for students of all ages and backgrounds.
Andrew Links
Piano
Andrew is a multi-instrumentalist, educator, composer, and a graduate of Eastman School of Music ('16) based in Brooklyn, New York. Andrew began playing violin in the 5th grade, quickly moving to guitar, drums, and alto saxophone, and finally to piano by high school. Andrew has studied piano under two-time APA Jazz Fellowship Finalist Zach Lapidus, Royce Thrush, Luke Gillespie, Harold Danko, Dariusz Terefenko, Bill Dobbins, and Kevin Hays. 
Andrew can be found performing regularly on the East Coast with bands and artists such as Oh Manitou, The Saplings, Jake Bellissimo, GIGANTOSAURUS REX, Dave Rivello Ensemble, 5HEAD, Luke Norris, and Neighbor's Cat. He has performed with Vic Juris, Melvin Rhyne, Rob Dixon, Eddie Daniels, Ramon Ricker, Matt Harris, Jimmy Greene, Oz Noy, Jennifer Bellor and Genevieve Artadi and Louis Cole (KNOWER).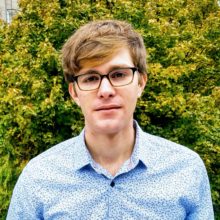 Matthew Honor
Drums
Matthew Honor is a jazz drummer and improviser based in Brooklyn, New York. Trained originally as a classical percussionist, Matt eventually shifted his focus to the drum set and attended the Eastman School of Music, where he earned his bachelor's degree in jazz studies. In 2013 he moved to New York to attend Manhattan School of Music.
Matt has established himself as a versatile musician at the forefront of both jazz and experimental music. He is a member of the critically acclaimed quintet Cowboys and Frenchmen, the Kevin Sun Trio, and since 2015 has been performing with D.C. based composer / songwriter Louis Weeks.
As a teacher Matt brings to his students a deep knowledge of classical percussion and drum set, and encourages them to explore a wide variety of music. By developing fundamental musical skills, he hopes that his students will have the ability to pursue any music which interests them.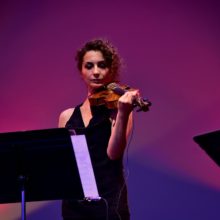 Marija Kovacevic
Violin
Born in Serbia, Marija began her violin when she was seven years old. From the age of 10 she started training at the The School for Musical Gifted Children in Cuprija, one of three institutes in Europe exclusively devoted to teaching stringed instruments. Marija traveled throughout Europe, competing and winning multiple summa cum laude musical festival awards for solo and ensemble playing.
Marija earned her master's degree and graduated in 2010 from the University for Music Arts in Belgrade. Just months after graduation she moved to New York City, opening the doors for her to expand her musical horizons and pursue her love of theatre.
Marija's teaching mission is to provide students with the tools needed to progress steadily toward their goals while enjoying the process of making music. Her lessons are tailored toward the individual goals, skill level, and learning style of each student while developing the fundamentals of technique, musicianship, and effective practice.
Laura Giannini
Violin
Laura Giannini, Italian-born violinist, is an accomplished performer and recording artist. At age nineteen she was selected by violinist Uto Ughi to perform as soloist and member of his Festival Omaggio a Roma Youth Orchestra. A graduate of the Accademia di Santa Cecilia in Rome and Hochschule für Künste Bremen, Laura was an active chamber musician for several artistic institutions, such as Accademia dei Cameristi, Musica a Piazza Navona and Deutscher Tonkünstlerverband.
Laura Giannini is currently based in New York City where she is engaged in various musical projects, including the collaboration with the New York Conducting Institute, the Symphony Orchestra of the Americas, where she is principal second violinist, and Semplice Players, chamber ensemble performing for Masterworks Series with Mark Peskanov at Bargemusic.
Laura is a dedicated music educator and violin instructor with a versatile teaching style embracing the Suzuki philosophy supplemented by elements from other violin methods and learning concepts personally developed. She has over ten years of teaching experience with a range of students of different ages from beginners to college level.